Unlimited global access

ONLINE options for iBOX and iSENSE


1> Optional Online VALUES & GRAPHS at LAPTOP, SMARTPHONE, TAB etc:
"App-Free" for all Operating System: iPhone, iPad, Android, Blackberry & Windows Systems!
* DEMO for SMARTPHONE * Graphs DEMO for PC & LAPTOP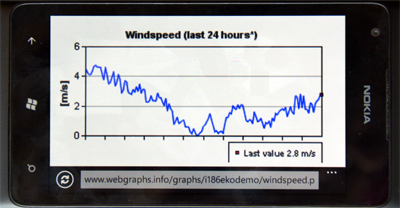 2> Local and Remote Access to iBOX datalogger:
Read values and set (up to 3) Control outputs via embedded webserver
using your Browser not only local but ALSO remote over internet with wired
OR wireless internet connection at the iBOX end. See demo.
Moreover data can simply be transferred to a PC, laptop or Tablet using the SD Card!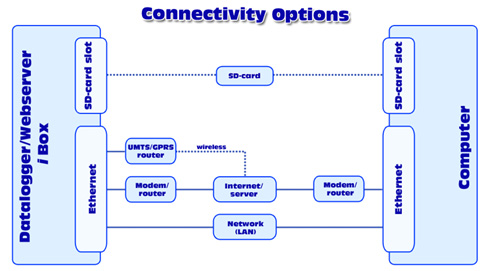 The local contact to the iBOX can be made via wired Ethernet connection or optional
via WiFi (WLAN) and via UMTS/3G router (WWAN): a remote wireless connection to internet,
which enable remote access to an iBOX without wired internet connection!
The 3G router can also communicate local via WiFi to more iBOX units (via WiFi).
+

3G Wireless Options for local (WLAN) or remote/mobile (3G)

For remote locations without mains power the iBOX can be operated in ultra low power
mode and the 3 G router is only switched on during data transfer.
In this case the system can run at batteries, with or without a solar charger

3> FREE Personal FTP-Cloud
As the iBOX has an embedded FTP client, data can be send automatically at pre adjusted
intervals to a FTP server. Data can be send to your own server or to any other FTP server,
also to the FREE FTP Cloud when you have no own FTP server.
EKOPOWER supplies (together with an iBOX) a FREE personal FTP Cloud (1GB) for:
- sending data automatically from iBOX to FTP cloud in a personal directory
with personal username and password (and/or sending files automatically via email)
- you can obtain the data from the FTP Cloud to your PC using
a FTP program like Filezilla (and/or receive files automatically via email)

NOTE: the free FTP cloud is offered as service for our customers and intended for:
test, evaluation and for "non-professional" users.
As the continuity is not guaranteed we recommend to use your own server
for professional applications. Also an "external" server can be used like low cost
Virtual Private Server (VPS).

4> Data to Server
Data can also be send to your own server or VPS, also from a remote location
via optional 3G router and safe isolated from your own network!

5> ONLINE Graphs
Online Graphs are optional and can be designed according to your project




App-free Online Graphs at your Smartphone or TAB !


6> ONLINE WEB-display
Web displays are optional and can be designed according to your project
Alphanumeric webdisplays or graphic web displays:





Temperature Eindhoven


7> Alarm & Remote Control Functions
If a preset alarm condition is active an alarm notification can be send via email (smtp protocol)
Also an additional alarm output is an option for switching a relais (220 V /6A)
Moreover switches can be operated remote via your browser or smartphone
Online options are possible for:
- iBOX (datalogger with embedded webserver, Ethernet/WiFi/GPRS/3G Router)
- iSENSE iP sensors/transducers (with Ethernet/WiFi/GPRS/3G Router)
- Vantage Pro2 en Vantage Vue weather stations Online Data (using iP link nr 6555)
or design your own website (also possible with 6510SER and usb converter 8434)

More detailed information:

Internet Protocol Technology (IP)

We have been listening carefully to our customers and are now in phase of offering telemetry solutions that embrace the power of the Internet.
With access to the internet a telemetry solution accessible through the web would prove to be powerful and cost-effective for any data acquistion application. We believe IP Enabling technology is the future and will extend the benefits of remote telemetry to a lot of applications!

The Highest degree of Share-ability of information:
Data is available for anyone from any place at any time!

* FTP
With FTP (File transfer Protocol) data files can automatically be send to
internet server (url) (also wireless via GSM/GPRS)
With simple FTP program the datafile is available for every authorized user
at any PC with internet connection!