iSENSE-2S:
SMART iP SENSOR/TRANSDUCER for Professional Users
Complete Solutions for Your Online Telemetry Project

Main Functions:



* Automatic Data Transfer to FTP Cloud/Server
* Smart Online Options like Online Graphs, Web-Displays, Alarm & Control Functions
* Optional Wireless Connections: 3G /GPRS /WiFi
* Optional Data Recorded at SD Card (2GB micro SD for iBOX-2S)

Transform any Sensor/Signal Value(s) into A String of ASCII values to your server !
ASCII Text File with Format: Time; Date; Value1; Value2; etc
for generating optional Web display and/or Online Graphs.
Free php & html code for Webdisplay available

Key Features:



* Configurations according to your requirements
* Customized Configurations available
* Versatile inputs for any Sensor & Signal
* Inputs: 1 up to 6 (iBOX-2S)
* Ultra Low Power Mode (typ 0,1 mA= 100 uA)
* Remote Access & Control via Embedded Webserver
* Also for Stand Alone Applications
* Easy Setup: No programming required
* Low Cost
* Optional Waterproof Enclosures (IP66/67)




iSENSE-2S for up to 6 inputs in small DIN rail cabinet
* 2GB micro SD card for optional datalogging
* Parameters, settings, ranges , units etc. can be
programmed to the SD card





Customised webdisplays and Graphs are possible
The iSENSE is available in two versions



(customised systems available, including presentation on the Web):

* iP SENSORS
Ready for use iP sensors for all kinds of physical quantities like:
temperature, humidity, wind speed, Power, Energy (kWh) , pressure, etc
See also details below.
Ask for a quote or help via contact us via email - Thank you!

* iP TRANSDUCER
Transform any "classic" sensor with analog or digital signal
into a TCP/iP sensor, see also details below.
Ask for a quote or help via contact us via email - Thank you!
<![if !vml]>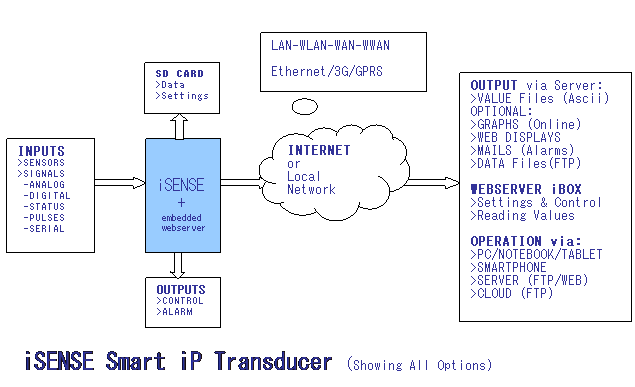 <![endif]>

FEATURES & Possibilities

> Enable(iP) internet connectivity to any sensor, signal or transducer
> Analog Input Signals: eg 0-5/10 V, 0/4-20 mA, mV, temperature etc.
> Optional datalogging to SD Card and Download data via FTP!
> LAN/Ethernet/optional WiFi interface or 3G Internet connection
> Receive a string of current (ASCII) values (including time and date) via FTP at your server
current values: Instantaneous, average, maximum, minimum and standard deviation possible
> Read values via browser with Optional ONLINE GRAPHS or WEB DISPLAYS
> View current values using the embedded webserver and receive alarms via email
> Remote wireless internet connection via GPRS/UMTS/HSDPA/3G
(via wireless 3G router)
> Standard versions or customised systems available

APPLICATIONS

ONLINE MONITORING SOLUTIONS for a wide range of APPLICATIONS e.g.:
- WIND, WEATHER & METEOROLOGY
- RENEWABLE ENERGY (WIND & SOLAR ENERGY)
- NATURE, TECHNOLOGY & ENVIRONMENT
- PROCESS, MACHINES & ENERGY MANAGEMENT

Inputs OPTIONS for any sensor(s) or signal(s) up to max 32 inputs e.g.:
A system can be configured using a selection the following input options
- analog signals (eg standard 0-5/10 V , 0/4...20 mA, mV)
- status signals (on/off, high/low)
- puls counter (for eg kWh or rain, 12 or 24 bits cumulative counter, non volatile)
- event
- special inputs/outputs
- operate remote on/off switches via your browser (up to 3 remote switches 230V /6A)
- alarm outputs (switch/email)

Can be connected directly to a lot of sensors, like:
> temperature sensor(s) (precision thermistors accuracy typ 0.2 C)
> pressure sensor
> wind speed
> wind direction
> solar radiation
> uv radiation
> frequency
> level
> etc. see also products

EKOPOWER provides also tailor-made on-line monitoring systems for specialised purposes
> Highly accurate: 12 or 16 bits resolution
> Low Cost > Optional Online Graphs at your Smartphone/TAB
"App-Free" for all Operating Systems iPhone, iPad, Android, Blackberry & Windows Systems!






DESCRIPTION



An iSENSE module is like an iBOX datalogger but WITHOUT datalogging to SD card:
Current values are available via the webserver and it can send also current values to a server,
which can be presented as Webdisplay or Online Graphs, see below.
An iSENSE module has an embedded webserver with LAN/Ethernet/Internet Connection/WAN/WWAN connection
The external signal(s), sensor(s) or transducer(s) can be connected to the iSENSE module.


DETAILED Features and possibilities



> Enable internet connectivity to any "classic" sensor(s) and/or signal(s)l!
Converts any sensor (or signal) to intelligent iP enabled sensor (TCP/iP) via Ethernet
with optional wireless WiFi (WLAN) or remote wireless connection (WWAN) using a
wireles GPRS/3G router (ultra low power version available for mobile or remote applications).
See application note for remote sensor/ datalogger networks (wired and wireless)

> Configured & Ready for Use for Your Specific Application: see standard configurations below
special design with excellent high-tech workmanshipis posssible, RoHS and CE certified
> View ONLINE values or graphs with your browser or control switches over the internet
Single or a group of signals/sensors, available in many configurations
> SINGLE, DUO or MULTICHANNEL versions available

Any online WEB display can be made according to your project and in different sizes:
- small
- LARGE
- EXTRA LARGE
Contact us: we would like to offer you our solution!