Stand alone multi-channel Data Logger with:
> Ultra low power (< 100 uA): 10 years battery life (or power via small solar module)
> With SD memory card (up to 2GByte) for recording of data
> Optional wireless GPRS Internet connection (iP version): data automatic to FTP server
> Standard versions or custom made systems available

EKOPOWER provides also tailor-made on-line monitoring systems for specialised purposes


* pdf datasheet
EKO21N is replaced by small EKO21N-2S for up to 6 in/outputs or by iBOX for more in/outputs
Communication options

- LOCAL : to PC (using a RS232 or USB cable)
- REMOTE: Wireless Data transfer to server via internet
with Optional iP Option:
ONLINE Data /Graphs/ WEB-display

See also:
- datalogger with embedded webserver iBOX
and Ethernet/Internet interface
- wind speed /meteo/ renewable energy datalogger


NEW: EKO21N-2S:
A small low cost unit for max 6 inputs/outputs including
2GB micro SD Card
> Configured & Ready for Use for Your Specific Application: see standard configurations below
Special design with excellent high-tech workmanship is posssible, RoHS and CE certified

> Ultra low power
Stand alone fleld applications with long battery life (5-10 years)

> Display
Your laptop/PC as "super display" via RS232 or USB for reading current values and status
(and for setup/ entering logger parameters) or online via WEB-display or online Graphs (EKO21N-iP)

> ONLINE options (via wireless quad band GPRS for remote/mobile applications)
receive data at server and view optional online graphs or WEB-display

> Inputs for any sensor(s) or signal(s) up to max 32 inputs e.g.:
- temperature(s)
- wind speed & direction
- power, level(s)
- analog signal(s): 0/5/10V or 4..20mA
- counter(s) for kWh or rain
- status
- alarm outputs (switch/SMS)

> Highly accurate
12 or 16 bits resolution

> Low Cost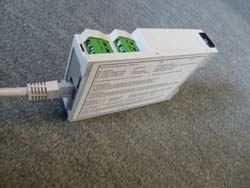 datasheet (pdf) EKO21N: ultra low power datalogger

EKO21N-iP: ultra low power remote wireless (GPRS) telemetry system
Datalogger with wireless GPRS Internet connection:
- receive data automatically at your server from remote sites
send values from a remote location to any server world-wide (via internet)
- optional online graphs
World Wide Monitoring over iP: monitoring via internet

For wind, meteorology and many other projects see:
WindOne package with EKO21N or EKO21N-iP module:
a superior First Class/Low Cost Wind Monitoring System

EKO21N-iP>>GPRS>>INTERNET>>user (server/website)

See also:
- iBOX with Ethernet connection (cabled or WiFi)!
- datalogger overview

EKOPOWER: since 1983 specialist in wind, meteo & dataloggers
systems, introduce a new generation of wind dataloggers and
wind servers with internet connection (Ethernet or via wireless GPRS)
Applications: besides meteorology, wind energy, environment, sailing/surfing etc
we supply monitoring solutions for any project.
For example: each system can be expanded on request to a complete meteorological
station with e.g. : temperature, pressure, rain, humidity, solar radiation,
uv or more anemometers (for wind energy applications) or with extra
special inputs. Other options are:cables, waterproof cabinet, mounting
material, power supplies (adaptor, battery pack, solar module) and
calibration certificate (MEASNET standard for wind energy applications).

OPTIONAL:
Besides the automatic receive of datafiles at a server
Online presentation of data is possible.
Possibilities
- standard presentation of standard graphs
- special presentation according to your requirements
- Beaufort number indication at website ("wind force scale")
- daily graphs of average wind speed & direction (during each 10 minutes)

Example of online graph of anemometer
ONLINE graph of iP anemometer (updated every 10 min.)
Other EKO21N-iP configurations:(via wireless GPRS internet connection!)
Versatile (input) configuration options (1 up to 32 inputs).
Measurements via iP with many configurations is possibilities, see below.
With a lot of applications for technology, energy, meteorology, traffic etc.

E.g.: ANY STANDARD SENSOR(s) or SIGNAL(s) can be used, also in group up to max 32 inputs:

> wind sensor(s) (using standard MAX40+ wind sensor or low cost 7911)
> acoustic wind sensor (professional anemometer with acoustic sensors)
> wind vane(s)
> meteo stations
> environmental sensors like CO2, NOx, fine dust, micro dust etc.
> temperature sensor(s)
> pressure sensor
> solar radiation
> uv radiation
> rain
> energy
> power
> frequency
> level
> counter
> event
> analog signals (0-10 V , 0/4...20 mA)
> status signals (on/off, high/low)
> serial RS232 signal (position, GPS, etc)
> special: with inputs and sensors/transducers according to your requirements!

Send us your requirements and we make an offer for your application!