ACCURATE & SMART WIND LOGGERS
EKOPOWER helped to develop MegaWatts of Wind Energy Projects !
Data At Your Desk or Smartphone via Website/ Cloud /FTP-Server /SD Card

Since 1983 WINDLOGGER SPECIALIST!

Solutions for Your Wind Monitoring Project
Key Featues:
* Data at SD Card & via FTP Cloud/Server
* Optional MEASNET calibration certificate (0.1 m/s)
* High Resolution of wind speed (0.01 m/s)
* Standard or First Class Anemometers
* Optional WiFi/GPRS/3G Connection
* Also for Stand Alone Applications
* Ultra Low Power Mode (typ 0,1 mA=100 uA)
* Remote Access & Control via Embedded Webserver
* Optional ONLINE Graphs & Web-displays and Alarms
* Configurations according your requirements
* Expandable to 8 or 16 anemometers
* From 1 up to max 16 or 32 inputs
* See also Most Significant Features (pdf)


Professional Windlogggers for Wind Energy Projects
and several types of LOW COST WINDLOGGERS
* Smart Online Options
* Know how about wind measurements for wind energy
* General Desription (pdf)
* Data processing utilities for wind data is available
CHOOSE YOUR WINDLOGGER

* Logging wind data to 2GB micro SD Card
* Ethernet interface iBOX-2S datalogger or Serial/USB (EKO21N)
* Several accuracy classes (0.5 / 0.2 / 0.1 m/s)
* Expandable according your specifications & requirements:
Max 6 channels for iBOX-2S and up to max 32 channels for full iBOX

FEATURES WHEN USED IN NETWORK
* DATA at your DESK, Smartphone, FTP server, Cloud !
* Ethernet connector to internet/network
* Embedded webserver for values and settings
* Smart Online Options:
- Download data via FTP/Cloud
- Online Graphs (optional)
- Optional WiFi / GPRS/3G router)
- FREE Personal 1GB FTP-Cloud

ANEMOMETERS for Windloggers:


iBOX-2S Datalogger
max 6 inputs


iBOX Datalogger
max 32 inputs



LOW COST


Low Cost Anemometer+vane type 6410
stainless steel U bracket for mounting
at pole (diameter max 40 mm)



A high quality and accurate
anemometer with stainless steel
mounting material
(mount via vertical M5 bold)



EXPERT
First Class Anemometer for Professional
Wind Enery Applications and Optional
Measnet calibration Certificate
Overview Windloggers


BASIC

PLUS

PRO

PROFESSIONAL

SONIC

ANEMOMETER

First Class
Acoustic

ACCURACY (typical)

typ 0,5 m/s or 5%

typ 0,2 m/s

if speed >0,5 m/s

typ 0,2 m/s (standard)

if speed >0,5 m/s
0,1 m/s
with Cal.
Certificate

0,1 m/s

0,1 m/s
or 2%
RESOLUTION
of WIND SPEED
(at 3 sec sample
interval)
average speed
0,1 m/s
average speed
0,1 m/s

0,01 m/s

0,01 m/s

0,01 m/s

RECORDING

Average wind speed & direction
Optional also max wind speed

Average wind speed

-Average

-Minimum

-Maximum

-Turbulence
intensity

-Average

-Minimum

-Maximum

-Turbulence
intensity

-Average

-Minimum

-Maximum

-Turbulence
intensity
- Average direction

WINDVANE

option DIR21
option DIR21
option First Class
Included

LOW POWER

SD/ MICRO SD

OPTIONAL FEATURES

ONLINE GRAPHS

MEASNET calibration certifcate

Expandable:

- Extra
anemometers

- Atm pressure

- Temperature

- Humidity

- Rain

- Analog inputs
(0/4-20mA
0-5-10 Volt DC)

- Counter inputs
for kWh/Rain

- Solar Radiation

- 3G Router
(for iBOX)

- GPRS modem
(for EKO21N)

- waterproof
cabinet

- Solar Power

- Datasheets

see below

see below

see below

see below

see below
NEW:
WINDSERVER
For stand alone applications, complete autonome system
with electronics and solar power supply in one waterproof box
direct to mount at a round pole of any diameter
* read values and /or online "real time" graphs
* wind sensors (with a wide choice of possibilities)
* datalogger, solar power, modem in a waterproof cabinet

Windserver BASIC consist of:
* 6410 anemometer with 12 meter cable
* Datalogger EKO21N-2S, modem
(data sim card required, low cost M2M sim available!)
* Solar power supply with 12000 mAh accumulator
* Online Reading values (max/average, Beaufort nr, windrose)
updated each 10 minutes, see example
GENERAL DESCRIPTION and SPECIFICATIONS


iBOX-2S or EKO21N Datalogger with 2GB micro / SD card and anemometer/vane type 6410 or MAX40+
(with 12 meter cable, which can be extended to any length)
Ultra low power consumption for battery operation or small pv solar module.
Current appr 120 uA. (in low power mode, 70 mA in full power mode)
Power requirements: 9-13.5 V (standard) DC , special: 6-10 V DC or or 24 V (specify at order) .
Or via optional power adaptor 220V (also available for DIN rail mounting) .
DC Power voltage is also measured and logged.
Recording capacity: many years of storage of values at the 2GB micro SD card
(supplied with micro SD to SD adaptor)
Data processing utilities for wind data is available.
| | |
| --- | --- |
| Wind Rose created using windlogger with wind vane | |

Expandable with: temperature, pressure, rain, humidity, kWh meter (AC or DC), currrent, voltage,
second anemometer, wind vane,pulse inputs, extra cable, waterproof cabinet, power supply, solar power supply or batteries, 3G Router etc. . Ask a quote .

Optional web displays or ONLINE Real Time Graphs, using internet connection:
- via PC/laptop
- Online Graphs at your Smartphone/TAB or
"App-Free" for all Operating Systems iPhone, iPad, Android, Blackberry & Windows Systems!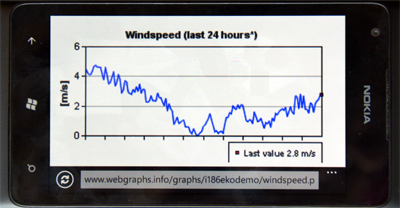 Example of Online Wind Speed Graph at Smartphone, Generated Using iBOX

Detailed information:

Wind logger kit BASIC For general purposes

For STANDARD LOW COST Applications choose windlogger kit BASIC
with 6410 anemometer
A high quality cost effective set for logging average wind speed and direction
during eg 10 minutes interval (or any other adjustable interval)
For Surfing & Sailing, Small Windturbines, simple wind monitoring, environment, air pollution, education etc.
Accuracy: 6410 anemometer: appr. 0,5 m/s (1-10 m/s) and
appr 5% if speed > 10 m/s (eg at 20 m/s accuracy: 1m/s)



Wind logger kit PLUS

For INDUSTRIAL Applications choose windlogger kit PLUS
If higher accuracy and reliability is required choose Wind Logger kit PLUS

For accurate and reliable recording average wind speed only
Can be used for general industrial use and small wind energy projects (kW).
with MAX40+ anemometer. Accuracy typ 0.2 m/s if speed >0.5 m/s
Recording of average wind speed with typical accuracy of 0.2 m/s with
anemometer MAX40+


Wind logger kit PRO Especially for Wind Energy Projects (> 10 kWatt)

For ADVANCED Applications choose windlogger kit PRO
If higher accuracy is required (accuracy typ 0.2 m/s if speed >0.5 m/s) and
ALSO recording of average, minimum, maximum and turbulence intensity (standard deviation/average wind speed).
Windlogger for accurate wind speed measurements with
MAX40+ anemometer
Especially intended for medium range wind energy projects, see also
know how about wind measurements for wind energy applications.

PROFESSIONAL Windlogger for BIG wind energy projects (MWatts)

For EXPERT applications:
If higher accuracy is required (up to 0.1 m/s with optional calibration certificate)
and recording of more anemometers (up to 8) average, maximum,
minimum and standard deviation (for determination of turbulence intensity)
then choose our advanced Professional Windlogger, which is used for
site analysis & evaluation of big wind energy projects (MegaWatt Class).

We supply customized configurations for this windlogger including First Class
Sensors (anemometers en vanes) and including atmospheric pressure sensor,
temperature sensor(s) and other required inputs and sensors
(extra acoustic wind sensors, counters, status inputs, alarm outputs etc.) and also
3G Router and online Graphs.

Our customers are using this windlogger for projects with mast up to 125 meter
and usual 4-6 First Class anemometers. Ask a quote for your project!

Our professional windloggers are equiped with a highly accurate (1sec) running
average filter and 16 bits AD conversion (resolution of 0.01 m/s) and have low
power consumption.

Optional MEASNET Calibrtaion certificate (IEC61400-12).
See also know how about wind measurements for wind energy applications:
this is our specialty since 1983 and has been exported to over 90 countries.

EXPANDABLE to customized system



The standard systems are expandable according your specifications & requirements
(max 6 external inputs for iBOX-2S and up to 32 inputs for full iBOX)
Ask a quote for your project!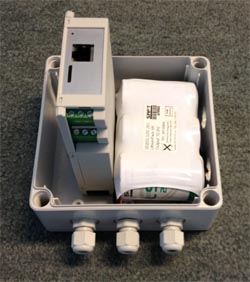 Optional waterproof box for iBOX-2S
and Lithium Battery PacK for years of unattended operation

WIND SENSORS:
- Wind vane DIR21 for Windlogger PLUS or PRO
- Additional anemometer(s) (up to max 3: for iBOX 2S, max 8/16 for full iBOX)
- First Class and Acoustic wind sensor (price on request)
METEO SENSORS
- Temperature TS21
- Temperature TS21 & Humidity HUM21
- Atmospheric Pressure sensor APS21 (inside iBOX-2S cabinet)
- Rain collector 7852M with mounting to surface or pole max 40 mm
- Solar radiation sensor 6450 with bracket or professional type SR12
SENSORS for working Climate
- Internal temperature and humidity sensor
- CO2 sensor
ADDITIONAL INPUTS / OUTPUTS & TRANSDUCERS
- Pulse count input
- Pulse count input 24 bits non volatile for kWh meter
- Anal0g inputs: currrent 0/4-20 mA or 0-5 V voltage (standard resolution 12 bits ADC)
- Anal0g inputs: currrent 0/4-20 mA or 0-5 V voltage (special resolution 16 bits ADC)
- Voltage, current, cosY & Power (RMS) transducers for AC (1 or 3 phase) or DC
- kWh meters with pulse output AC (1 or 3 phase)
- Alarm Outputs & Alarm email notification
OTHER OPTIONS: (price on request)
- Sensor Mounting Arm for anemometer MAX40+, vane DIR21+, Temp/humidity and solar sensor
- Extra cable, power supply, solar power supply or batteries
- 3G Router for GPRS/3G internet connection
- WiFi module for connection to WLAN
- Waterproof cabinet for use outdoor (with optional cable glands and brackets to pole or wall)
- Online Options: data automatically to server/ online graphs, sending files to internet
(server or free CLOUD) and online graphs:
ONLINE Data /Online real time graphs / WEB-display, hosting and e-mail alarm notification.
Ask a quote. Hosting of web display is FREE. Hosting online graphs is 25 euro/month.

Data sheets additional Meteo Sensors and Accessories



>Temperature sensor TS21 with shield WS21
> Humidity sensor HUM21+
> Atm Pressure sensor APS21
> Anemometer & Vane Low Cost 6410E
> Anemometer MAX40+ (also available with 4-20 mA output)
> Windvane DIR21+ (also available with 4-20 mA output)
> Acoustic Wind sensor (for connection to iBOX or with analog outputs)
> First Class Anemometer
> Solar Radiation sensor 6450 (with optional bracket 6673)
> Solar Radiation sensor Professional SR12
> Rain colector 7852 M (also availabale for mast-mount)
> Sensor Mounting Arm USMA for mounting to mast or Tripod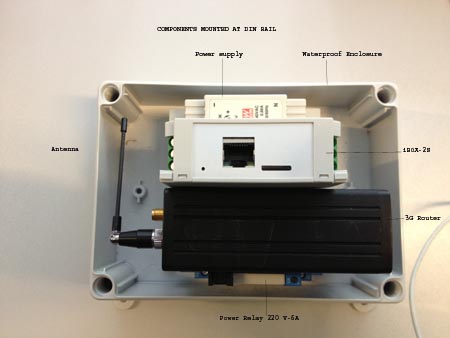 Example of iBOX-2S system in waterproof enclosure with power supply and 3 G Router

Data processing utilities for wind data is available

More professional windloggers and other wind meters see:

WIND SENSORS (also wit 4..20 mA output)
LOW COST WIRELESS WINDMETERS
WIND LOGGERS (professional systems wind/meteo data to SD Card with online options)
WIND ONLINE MEASUREMENTS (iP anemometer with free webdisplay or online graphs)
WIND ALARMS (for safety applications)

EKOPOWER provides also tailor-made on-line monitoring systems for specialised purposes